Residential & Commercial Plumbing Services
We are experienced with all residential and commercial plumbing needs.
Serving Tulsa Since 1945
Residential & Commercial Plumbing Services
With over 75 years of plumbing experience, Allied Plumbing has the expertise to solve any plumbing issue. We will carefully diagnose and tell you exactly what we will do to fix your plumbing problems. That's our Upfront Price Guarantee.
5 Star Service
with an Upfront Price Guarantee!

I have used Allied plumbing on more than one occasion. Each person they sent have been excellent, informed. I recently had them to install grab bars, fix kitchen facet.... read more They did a beautiful job & clean everything up perfectly. Sean the dispatcher is wonderful. I highly recommend.

Barbara Chapman


Super helpful, nice and efficient!! Noah and Jerome are the best!

Kristian Mathis


We had a list of things to be accomplished in a bathroom remodel. Allied designed and executed the entire project (cabinets, paint, tile, walk-in shower, lights, and tub). Superb craftsmanship... read more and attention to detail.

Robb Rose


I needed my old UNION leaking shower faucet valves/cartridges replaced. This company bent over backwards and accommodated my needs. THEY ARE: PROMT, FAIR, HONEST, DIDN'T TRY TO UPSALE ME. They... read more are hands down the Best in Tulsa. I've been working along plumbers for 25 years. These guys are at the top.

Yong Yea


The plumbers who did the work on the faucets and toilet in my bathroom were very prompt, professional and very polite. I have used Allied ind the past and I... read more have been very pleased with their service.

Deanna Dent


Drains were backing up. Called Allied. My thanks to Seth, Jessy, and Ernest. They were nice, courteous, professional and reassuring. They explained everything, there was very little wait time,... read more and the quote was right on Thank you guys. I appreciate you Allied will be my go to plumbers I recommend them

kay jones


Allied on 12th & Harvard is my go-to for plumbing parts and repair. For over 5 years they have been friendly, resourceful, and never try to break your bank.

Phyllis Hall


Seth was excellent! He is very friendly and knowledgeable. He listened to all my concerns and provided a solution to all of them without suggesting more work be done than... read more was necessary. I'm glad I called Allied again and appreciate the work they do very well.

Steve K (Cleve)


Very happy with my service. Thank you!

Matt Harader


Awesome and definitely dependable

Shaunna Holloway


quick, reasonable, and reliable

Waldo Stockham


These folks are the best. So helpful and will work as fast as possible to schedule your plumbing needs. Excellent customer service and our whole family are customers.

Carla Maselli


Discovered a leak in the yard on Sunday afternoon. Wesley from Allied Plumbing Service came out Monday, spent close to an hour, and assessed the problem. Today, he and his... read more associate Earnie came out, dug it up and confirmed what he thought the problem was, and made the repair. Very knowledgeable and courteous young man. Cost was what he quoted me yesterday, no hidden costs, no surprises.

Kathy McAulay


Really respectful and professional

Brian Martinez


I had a hopelessly clogged drain on a Friday afternoon. I called Allied hoping they could miraculously get me some help before the weekend. In 5 minutes he called... read more back saying someone was on his way! The 2 guys who came were fast, friendly and professional. I can't recommend them highly enough!

Carole Bender


great work

sstkd


Allied is currently doing major work on my old Kendall-Whittier fixer upper. Previous plumbing companies charged money without results. But since Allied has been on the job, the plumber Al... read more and his assistant Willy have done great work (and there's lots of it). I totally trust both of them, and I appreciate the way the schedulers communicate and update me. Plumbers don't come cheap, so it's important that you dollars get you this kind of professionalism and courtesy.

Mickey Shanahan


The entire team at Allied were very professional- Al and his assistant did an excellent job completely re-doing the plumbing for my washer, having to work in the crawl space... read more as well, to fix the issue. I will refer others to this company for sure!!

debbie garner


Alex and Noah came out immediately after I called about a tub that wouldn't drain. They did exceptional work at a very affordable price. They were clear and transparent about... read more the pricing up front. They were so kind and made my stress completely go away about having house guests come that evening! Thank you so much!

Colleen Fox


These guys were great! I had a foundation leak and had originally called another company, but due to some problems with scheduling and a high estimate, I wanted... read more another opinion. Allied's estimate was the same, but after fixing it, they actually lowered the price they had estimated because it wasn't as involved as they thought it was going to be. They were here when they said they would be, hung up protection plastic for the jack-hammering, and even checked on a few other items I asked them to take a look at, and they did a quick simple fix! My house is notorious for plumbing problems and it seems I call a different company almost every time, but I now have a good company I will definitely call the next time...and I'm sure there will be one.

Lynette Quetone


Had exactly what I needed at a competitive price.

B61 Mack


I ask for Caleb to serve my HVAC system bi-annually. He does a totally thorough exam of the inside & outside systems, explains when a new part is needed... read more that's critical for optimal functiioning, and has excellent customer relations skills, like all Allied service technicians. His integrity is unquestionable. I trust and respect his work completely. I've never had a problem with my system because he keeps it running optimally. Jan Harris

Jan Harris


These guys are great! We had two toilets out of service at the office & they were able to have people on the ground the morning of the call.... read more The plumbers were clean & professional & got the job done quickly. I would definitely use Allied again personally & professionally. Thanks again.

jason smith


Very knowledgeable and good people!

Francis Wheeler


THE SERVICE WAS GREAT AGAIN! THANK YOU ALL

Karen Bell


The lady at the parts counter got me what I needed quickly and even put the part on for me in the store.

Mike Strapason


I'm a local plumber. I can't the Leroy enough. He's helped me hundreds of times over the years. If you need a shower stem or cartridge that's odd ball. You... read more need only stop here.... It's where I'm going to go 🤣

Christopher Schipper


Thankful they came on short notice. Alex Garcia was absolutely fantastic. He is THE MAN! Allied is our new plumber.

Bill Turner


Allied installed a yard drain down the side of our property to the street. They had given us a reasonable price, and they showed up on time and did a... read more quality job. Would definitely use them again.

Nelda Criswell


Brian and Jesse were amazing. We tried three plumbers that couldn't fix the issue and called Allied Plumbing. They found the issue and resolved it in a matter of hours.... read more We will be using them in the future for all plumbing needs. They were amazing!

Bobbi Backes

Stay in your home longer with safe and accessible bathroom modifications.
Allied is equipped to assist you in identifying your specific needs, and can assist you in a bathroom or kitchen modification or a total remodel. Our staff can also widen doorways to accommodate walkers or wheelchairs and also build ramps for entry into your home.
Come visit our brand new showroom!
1211 S. HARVARD AVE TULSA OK 74112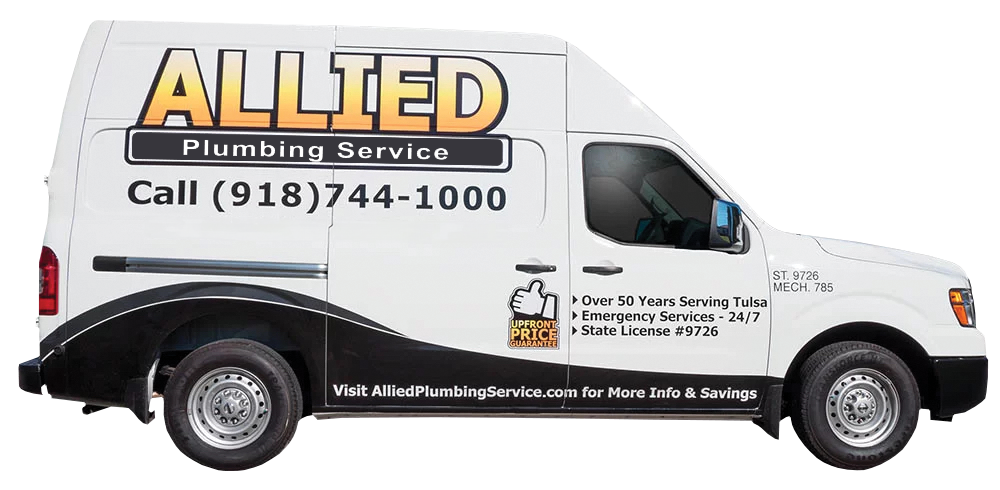 Plumbing Tulsa For Over 75 Years
Allied Plumbing Services offers top-notch solutions for all your plumbing needs. From tackling stubborn drain clogs to detecting and repairing slab leaks, we also provide comprehensive whole home inspections to ensure your plumbing system is in optimal condition.
Serving Tulsa, Verdigris, Claremore, Oolagah and surrounding areas.
Whenever you need expert plumbing services in Tulsa, or the surrounding communities, you can count on the professional service you will receive from Allied Plumbing. We service everything from hot water tank replacements, slab leaks to drain line clean outs and repairs.